Haggis Taster Session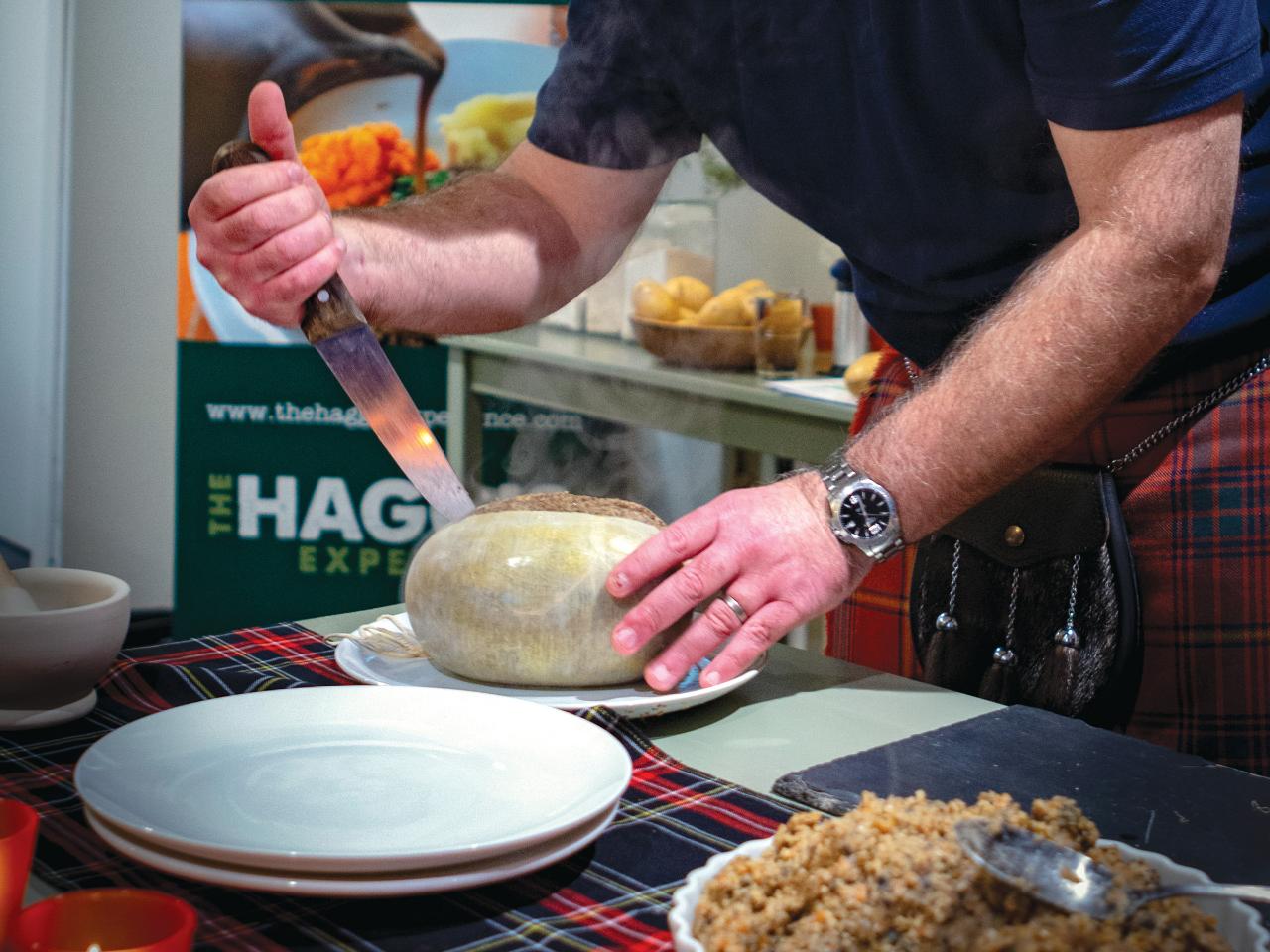 Dauer: 75 Minuten (ca.)
Ort: Balfron, Glasgow
Produkt-Code: ht-pm


If you've not tasted haggis before, or want to know a little more about Scotland's national dish, you are in for a real treat. In this Haggis Taster Session set on a working sheep farm, you will discover how world famous haggis is made, cooked and traditionally presented whilst enjoying an immersive experience packed with history and culture.
Vegetarian haggis option available as standard, vegan & gluten free options by arrangement.
What to expect:
The Haggis Taster Session will begin with a warm welcome, followed by an introduction to the world of traditional haggis and an insight into the art of haggis making.
In this 1 hour 15 minute Haggis Taster Session you will:
Discover the origins of haggis and the ingredients that make it so delicious.

Watch a brief demonstration of the making of a traditional haggis by a master Haggis Maker.

Learn how to perfect the traditional accompaniments to haggis.
We will also include a brief understanding of why haggis is intrinsically linked to Rabbie Burns, Scotland's Bard.
Finish your experience with a generous taster portion of fresh Scottish haggis and classic traditional accompaniments.
What our customers say:
"A fun experience"
A fun experience. Certainly unique. I run food tours across the whole of Scotland in my business 'Tasting Scotland Gourmet Journeys & Events' and know this is something both visitors and locals will love to do. Really delicious Haggis, Neeps and Tatties and a lovely demonstration of making the dish by Stephen. A concise insight into the history of Scotland's national dish and current ways to incorporate into meals provides the perfect balance. Will recommend.
Brenda
"would definitely do this again"
I booked this adventure for myself, my husband, mum and aunt - we had no idea what to expect but it was a fantastic experience.
Both Stephen and Lee were warm, welcoming and extremely informative on the background, traditions and myths surrounding the haggis - all true of course!!
Their delivery was polished, professional and really good fun and we immediately felt relaxed and welcome. The actual making of the haggis was fascinating to learn, but nothing surpassed the wonderful lunch that we were served up, it was absolutely delicious and the best haggis, neeps and tatties that we had ever had. We all thoroughly enjoyed the brilliant company, learning of some Scottish traditions including what a Scots man really wears under his kilt!!! - and were truly sad when it was over and we had to leave. We had however been furnished with our dinner for the evening too and are now firmly in Aiofe's camp and would happily eat haggis for breakfast, lunch and tea!!!! Thank you very much for a truly enjoyable interlude, we all had a brilliant time - cannot recommend highly enough, and would definitely do this again.
Anne